Friday, September 2, 2022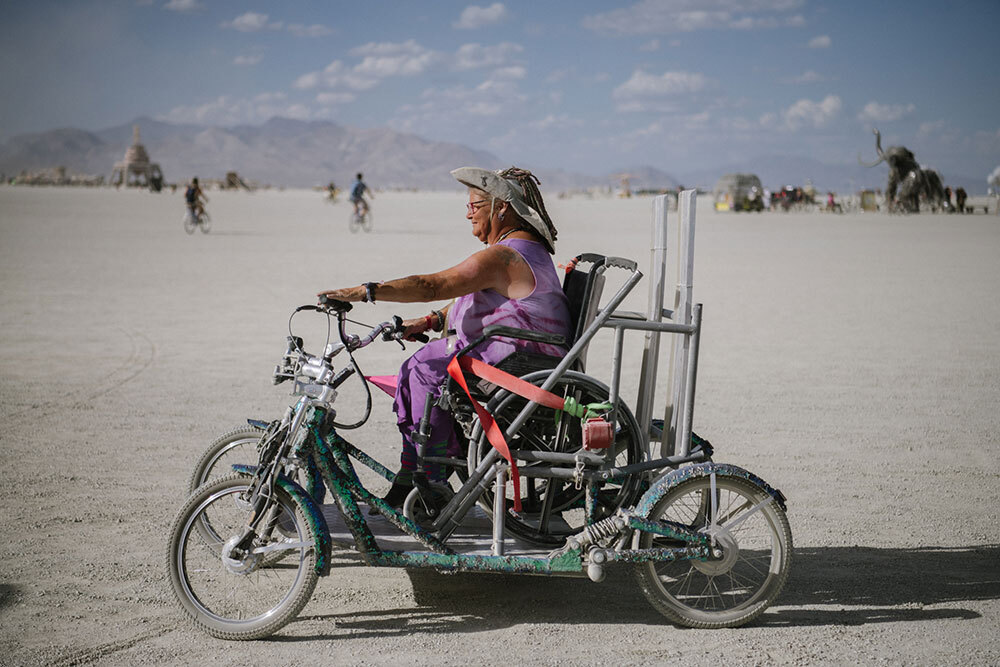 PHOTOGRAPHS BY MORGAN LIEBERMAN
This week, in the hot and dusty wilds of northern Nevada, the riotous Burning Man festival roars back into action following a pandemic hiatus. The artful celebration honors "radical inclusion," but its harsh desert environment can be punishing for people. That won't keep hundreds of "Burners" with physical disabilities (like Dani Moore, photographed above in a "mutant vehicle" designed to accommodate her wheelchair) from participating, thanks to the support of communities such as Mobility Camp, which helps mobility impaired (as well as able-bodied) people make the most of their time on the playa.

One Burning Man tradition photographer Morgan Lieberman documented was the nightly lamp-lighting ceremony (pictured below, a Mobility Camp member prepares for the event). "Seeing Mobility Campers partake in something that one would assume is only for the able-bodied was a perfect reminder that people with disabilities should be fully embraced. Radical inclusion is the reminder that we can all collectively exist and participate together, because our real strength is in numbers and when we look out for one another."

Read the full story here.

Please, consider getting our full digital report and magazine by subscribing here.
PHOTOGRAPH BY DAVID GRUBER
Retracing a historic expedition: 177 years ago, Sir John Franklin and his two British Royal Navy ships, the H.M.S. Erebus and the H.M.S. Terror, set sail with the goal of being the first to find a route through the Northwest Passage, a fabled seaway connecting the Atlantic and Pacific oceans. The expedition was never seen again after they set off from Greenland in July 1845.

Climber Mark Synnott and his team are attempting to recreate Franklin's route through the icy waters of the Canadian Arctic Archipelago (above, their sailboat is trapped by ice, just as Franklin's was), meeting with Inuit along the way who will share oral histories about what befell Franklin and his men, as well as first-person testimonies about life in a fast-melting Arctic.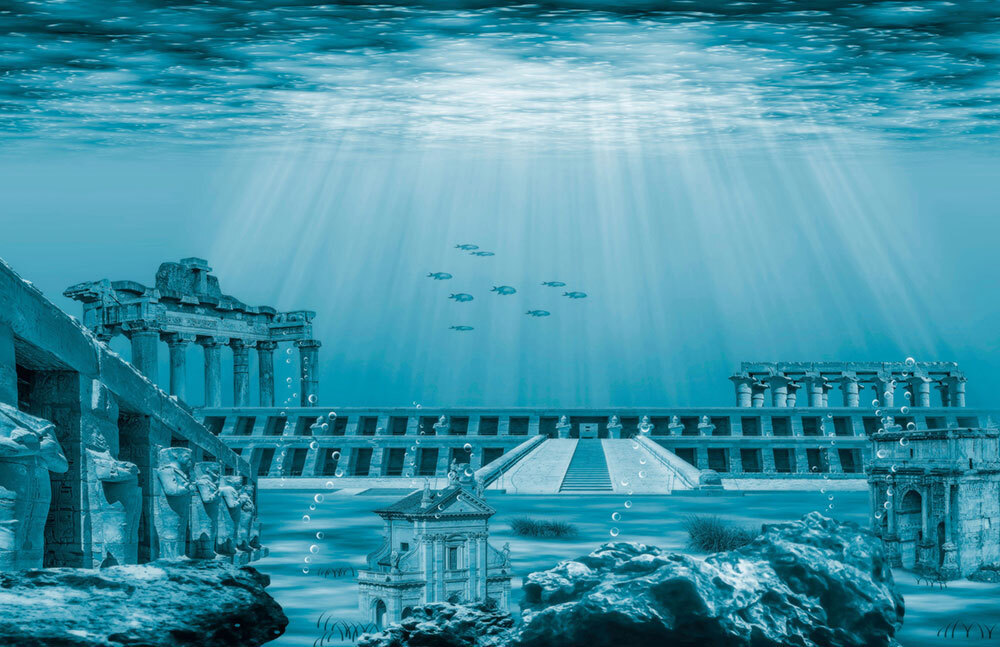 IMAGE COURTESY OF STOCKBYM/ALAMY
Finding Atlantis: Plato first wrote about the great island of Atlantis (an artist's illustrated imagining, above) in his fourth-century B.C. dialogue, Critias. Later writers, including Sir Francis Bacon, William Blake, and American politician Ignatius Donnelly kept Atlantis in the public's consciousness—but was it ever real? Many historians and archaeologists believe that a historical catas­trophe—an earthquake, tsunami, or vast flood—may have inspired the story. It's one of six mystery islands Nat Geo's History Magazine explores in a new report.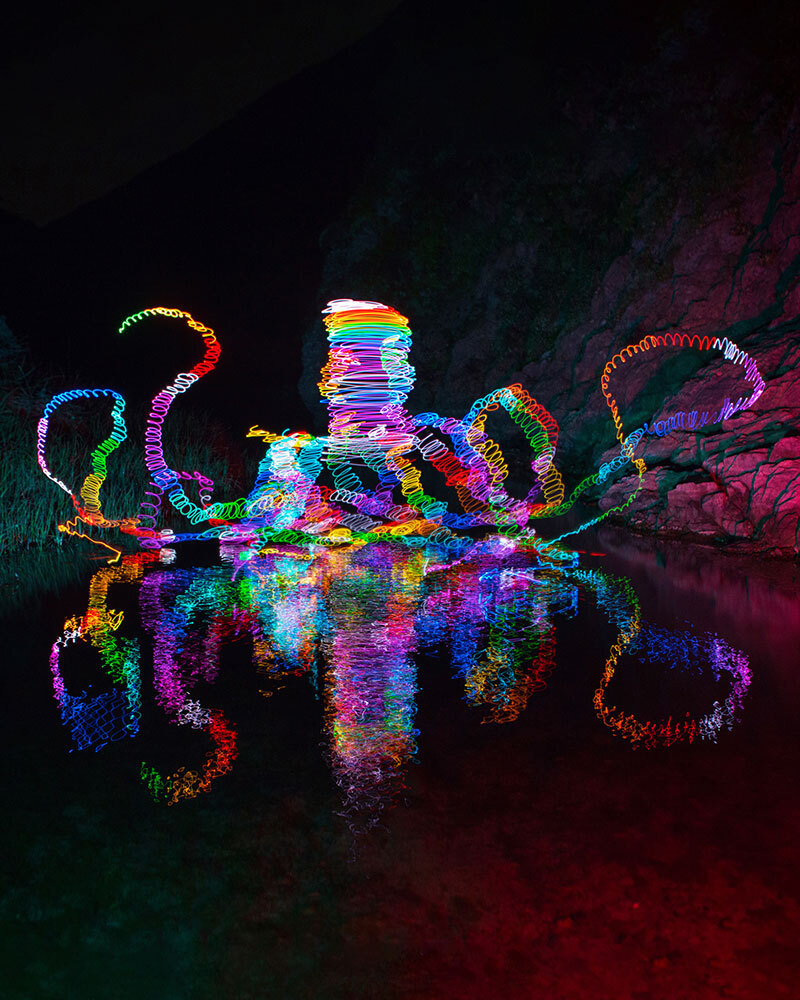 PHOTOGRAPH BY DARREN PEARSON
A beaming menagerie: Photographer Darren Pearson is a painter, but he doesn't work with acrylics or oils. Instead, he paints with light and time. Using a multicolored flashlight he designed himself, he draws creatures (like the octopus above) into existence in front of his camera. By the time the shutter snaps shut—sometimes after only 30 seconds—a glowing figure appears on the frame.
Today's newsletter was curated and edited by Jen Tse, Amy McKeever, Anne Kim-Dannibale, Heather Kim, Sydney Combs, Allie Yang, Janey Adams, and Alissa Swango. We'd love to hear from you at
david.beard@natgeo.com
. Thanks for reading!
| | |
| --- | --- |
| | SHARE YOUR THOUGHTS |
| | |
| --- | --- |
| | We'd like to hear from you! Tell us what you think of our emails by sharing your feedback in this short survey. |
Clicking on the Facebook, Twitter, Instagram, and National Geographic Channel links will take you away from our National Geographic Partners site where different terms of use and privacy policy apply.

This email was sent to: baltimoreonlinebusiness.jody1@blogger.com. Please do not reply to this email as this address is not monitored.

This email contains an advertisement from:
National Geographic | 1145 17th Street, N.W. | Washington, D.C. 20036

Stop all types of future commercial email from National Geographic regarding its products, services, or experiences.

Manage all email preferences with the Walt Disney Family of Companies.

© 2022 National Geographic Partners, LLC, All rights reserved.